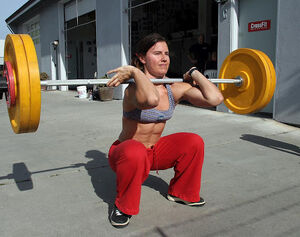 A squat is a compound, full body exercise that trains primarily the muscles of the thighs, hips and buttocks, quadriceps (vastus lateralis, vastus medialis, vastus intermedius and rectus femoris), hamstrings, as well as strengthening the bones, ligaments and insertion of the tendons throughout the lower body. Squats are considered a vital exercise for increasing the strength and size of the legs and buttocks, as well as developing core strength. Isometrically, the lower back, the upper back, the abdominals, the trunk muscles, the costal muscles, and the shoulders and arms are all essential to the exercise and thus are trained when squatting with the proper form.
In a backsquad, the bar is held on the back of the body at the base of the neck or lower across the upper back. In powerlifting the barbell is often held in a lower position in order to create a lever advantage, while in weightlifting it is often held in a higher position which produces a posture closer to that of the clean and jerk. These variations are called low bar and high bar, respectively.
Ad blocker interference detected!
Wikia is a free-to-use site that makes money from advertising. We have a modified experience for viewers using ad blockers

Wikia is not accessible if you've made further modifications. Remove the custom ad blocker rule(s) and the page will load as expected.