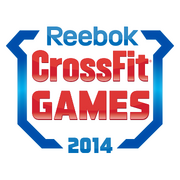 The CrossFit Games have been held every summer since 2007. Participation and sponsorship have grown rapidly; the prize money awarded to each first-place male and female increased from $500 at the inaugural Games to $250,000 in 2011-2013. Winning the 2013 Reebok CrossFit Games now nets $275,000. Athletes at the Games compete in workouts they learn about only hours beforehand, sometimes including surprise elements that are not part of the typical CrossFit regimen; past examples include a rough-water swim and a softball throw. The Games are styled as a venue for determining the "Fittest on Earth," where competitors should be "ready for anything."
In 2011, the Games adopted an online format for the sectional event, facilitating participation by athletes worldwide. During the "CrossFit Open", a new workout is released each week. Athletes have several days to complete the workout and submit their scores online, with either a video or validation by a CrossFit affiliate. The top CrossFit Open performers in each region advance to the regional events, held over the following two months. As of 2013 there are 17 regional divisions, including 12 in North America (North West, Canada West, Canada East, North Central, Central East, North East, Mid Atlantic, South East, South Central, South West, Southern California, and Northern California), and five in the rest of the world (Europe, Asia, Africa, Latin America, and Australia). The top athletes (up to 3 of each gender) from each region are eligible to compete in the CrossFit Games.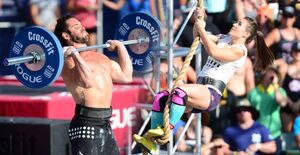 The Games include divisions for individuals of each gender, and for a number of Masters age groups: 40–44 (new in 2013), 45–49, 50–54, 55–59, and 60+, as well as for co-ed teams comprising 3 men and 3 women. Masters competitors qualify for the Games based on performance in the CrossFit Open—there are no Masters regional events.
Ties are broken by the best individual event by the competitor, followed by second best, etc. until the tie is broken. This was needed to declare Craig Howard the winner in the Men's 50–54 division in 2013.
CrossFit communities organize local, regional and even international events, workouts and competitions.
Media Coverage
Edit
In the 2012 games were streamed live on the Crossfit Games website. For 2013 and beyond, a multi-year, exclusive contract was signed with ESPN to that make the Games were available on ESPN3 to everyone outside the US. US residents with select ISP's can also watch the live and recorded streams.
Champions and Categories from 2007–2010

| Year | Male champion | Female champion | Affiliate Cup | Masters Men | Masters Women |
| --- | --- | --- | --- | --- | --- |
| 2007 | James Fitzgerald | Jolie Gentry | CrossFit Santa Cruz | | |
| 2008 | Jason Khalipa | Caity Matter | CrossFit Oakland | | |
| 2009 | Mikko Salo | Tanya Wagner | Northwest CrossFit | | |
| 2010 | Graham Holmberg | Kristan Clever | CrossFit Fort Vancouver | Brian Curley | Laurie Carver |
Champions and Categories from 2011–present

| Year | Male champion | Female champion | Affiliate Cup | Masters Men (40–44) | Masters Women (40–44) | Masters Men (45–49) | Masters Women (45–49) | Masters Men (50–54) | Masters Women (50–54) | Masters Men (55–59) | Masters Women (55–59) | Masters Men (60+) | Masters Women (60+) |
| --- | --- | --- | --- | --- | --- | --- | --- | --- | --- | --- | --- | --- | --- |
| 2011 | Rich Froning Jr. | Annie Thorisdottir | CrossFit New England | | | Scot DeTore | Susan Habbe | Gord Mackinnon | Mary Beth Litsheim | Steve Anderson | Shelley Noyce | Greg Walker | Betsy Finley |
| 2012 | Rich Froning Jr. | Annie Thorisdottir | Hacks Pack UTE | | | Gene LaMonica | Lisa Mikkelsen | Gord Mackinnon | Susan Habbe | Tim Anderson | Marnel King | Scott Olson | Mary Schwing |
| 2013 | Rich Froning Jr. | Samantha Briggs | Hacks Pack UTE | Michael Moseley | Amanda Allen | Ron Ortiz | Lisa Mikkelsen | Craig Howard | Colleen Fahey | Hilmar Hardarson | Gabriele Schlicht | Scott Olson | Sharon Lapkoff |
| 2014 | Rich Froning Jr. | Camille Leblanc-Bazinet | CrossFit Invictus | Shawn Ramirez | Amanda Allen | Jerry Hill | Kim Holway | Will Powell | Mary Beth Litsheim | Steve Hamming | Susan Clarke | Scott Olson | Karen Wattier |