Emily Friedman
Mid Atlantic - Hardbat CrossFit
Born
1984
Berkeley, California
Residence
Atlanta, Georgia
Education
Wisconsin
UC Berkeley
Height
5 ft 6 in (1.68 m)
Weight
130 lb (59 kg)
Personal best(s)
Deadlift
315 lb (143 kg)
Backsquat
200 lb (91 kg)
Emily Friedman is an American former softball player and a professional CrossFit athlete. She attended the University of California, Berkeley in college, where she developed softball talent. Friedman later discovered CrossFit, and instantly rose to prominence at the CrossFit Games. Friedman is currently the assistant coach for the Columbia University softball team. She used her talents to enroll at the University of Wisconsin as well.
CrossFit career
Edit
Friedman discovered CrossFit in 2011 after retiring from softball. She started out with a backsquat of 160 lbs and could lift only 110 lbs clean. Friedman was noted for one of the greatest turnarounds in the CrossFit world, physically. She was considered the "dark horse" at the 2012 CrossFit Games Open, going into the event with only six months of training. She made it to the North East Regionals, placing second, and finished the Open in nineteenth place worldwide. Despite her performances, Friedman just missed making the official CrossFit Games. Following the year, she moved from California to Atlanta, switching to the South East region.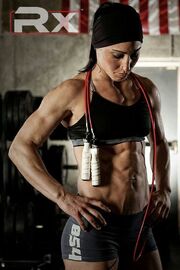 Before entering another CrossFit season, Friedman said, "Being new here in Atlanta, it has really been amazing to be supported by so many people and to be surrounded by such amazing athletes." In 2013, Friedman qualified for the Games with more experience. She represented the team, CrossFit RX. In the Regional, Friedman won Event 3's burpees and performed an overhead squat of 175 lbs. She finished the regionals in 3rd place. She commented, "This year I had experience on my side, which I did not have last year."
Friedman entered the 2014 CrossFit Games as one of the most formidable and physically accomplished athletes. She joined the CrossFit affiliate, Hardbat CrossFit and competed in the Mid Atlantic. She also returned to softball the same year, announcing that she would be the assistant coach for the Columbia University team in the 2014-15 season.